10 "Best" AI Marketing Tools (December 2023)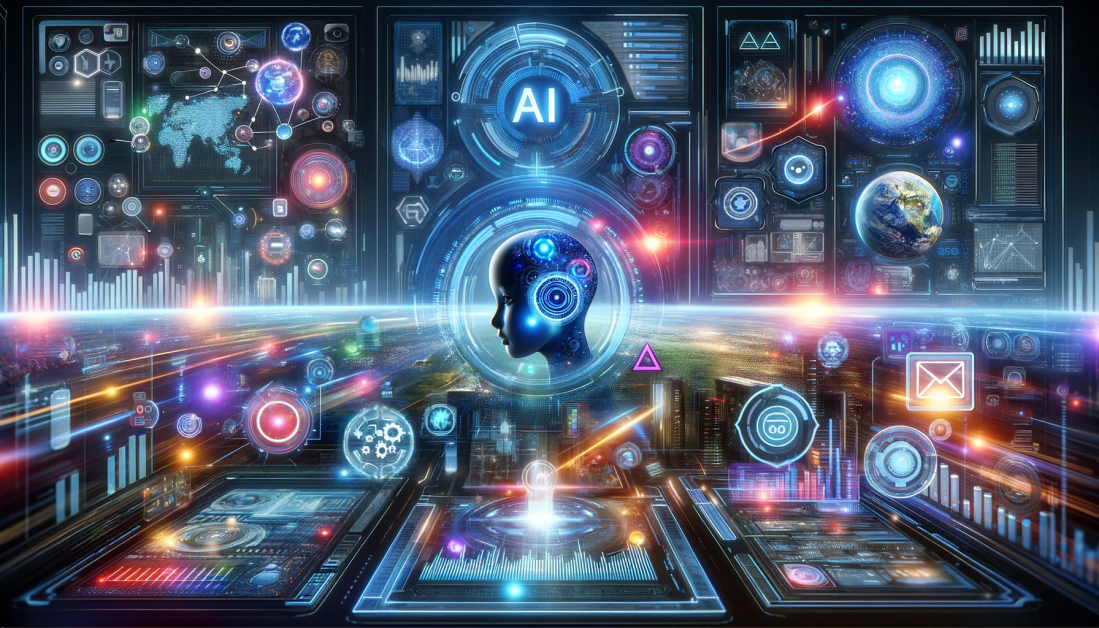 Artificial intelligence (AI) tools are revolutionizing nearly every sector, including marketing. Many companies of all sizes are relying on AI marketing tools to promote their brands and businesses. They should be part of any business plan, whether you're an individual or organization, and they have the potential to take your marketing strategy to the next level. 
AI marketing tools are software or platforms that help create automated decisions based on data that is collected and analyzed, and they have made it far easier to predict buyer behavior. Most of the time, human intervention is not required. 
AI can process massive amounts of information pulled from various sources, such as social media and email. Everyone knows data is key to marketing, and AI takes that one step further while also saving a ton of money and time. Organizations no longer need to rely on a staff for these tasks, which allows them to be used in other crucial areas of the business.
Another major benefit of AI marketing tools is that they allow businesses to personalize their sales and marketing strategies. This can be done through predictive analytics, which provides deep insights into buying habits. You know how companies like Google and Netflix are all about recommendations? This is the work of AI marketing tools. 
There are many impressive options on the market, so let's take a look at the 10 best AI marketing tools: 
Meet Jasper, your AI assistant 👋 Write amazing content 10X faster with the #1 AI Content Platform
Many recognize Jasper as the best overall AI writing assistant, leading the market with its impressive features and quality. You first provide it with seed words, which Jasper then analyzes before creating phrases, paragraphs, or documents based on the subject matter and tone of voice. It is capable of producing a 1,500-word article in less than 15 minutes.
The platform has more than 50 AI content generation templates, including blog posts, emails, marketing copy, Facebook ad generator, Google ad generator, meta title and description, press release, and much more.
Here is a look at some of the best features of Jasper:
More than 11,000 free fonts and 2,500 categories of writing styles
Supports 25+ languages
Intuitive interface
Long-form writing assistant (1,000+ words)
Identify key elements in text (pronouns, verbs, names, etc.)
Read our Jasper Review or visit Jasper.
MarketMuse is great option for those looking for an all-around effective AI marketing tool, especially since it deploys AI technology throughout all of its services. It was designed specifically for businesses looking to optimize long-form content, such as landing pages, emails, articles, or sales copies. 
The tool works by carrying out deep AI research about a topic before creating a first draft based on the chosen subject, which can then be improved upon by users. MarketMuse also offers KPIs and a content brief, as well as a built-in editor. 
Here are some of the main features of MarketMuse: 
AI in all of its services

Conducts deep AI research

Creates a first draft that can then be altered

Build-in editor and content brief
AI Email Generator: A Step-by-Step Tutorial
The GetResponse AI Email Generator is at the forefront of email marketing innovation, incorporating the sophisticated GPT-3.5 technology. This tool is a game-changer for businesses and marketers struggling with creating compelling email content. It addresses the core challenges of email marketing, such as crafting engaging subject lines and generating content that resonates with specific audiences.
What makes the GetResponse AI Email Generator particularly noteworthy is its range of intelligent features. It offers AI-optimized subject lines that are designed to boost open rates by capturing the recipient's attention immediately. The generator also excels in creating industry-specific content, ensuring that each email is tailored to the unique trends and keywords of your business sector.
The tool simplifies the email creation process significantly. Users can define their email goals, choose an industry and tone, customize the layout, and then review and send their AI-crafted emails. This streamlined process is not only user-friendly but also highly efficient, saving valuable time and resources.
By leveraging the GetResponse AI Email Generator, businesses can harness the power of AI to enhance their email marketing strategies. This leads to not just time savings, but also the creation of more engaging, relevant, and effective email campaigns that resonate with the audience and drive conversions.
Generative AI Revolutionizes Ad Creatives: AdCreative.ai Official Promo Video 2023
AdCreative AI is the only conversion-focused generative AI that produces high quality ready-to-use ad creatives. All you need to do is upload your logo, and choose your color scheme and the powerful platform is then ready to launch 100s of different creative ads for you to choose from.
Discover where your competitors get the bulk of their traffic and sales, and monitor their top-performing ad creatives across all social and display platforms.
Determine which ads are the top performers in your ad accounts, learn when to introduce more creatives to prevent ad fatigue, and understand how your ads stack up against those of other companies in your niche.
Best of all you have the freedom to generate as many creatives as you want, regardless of whether you have used all your credits or not. You will only use your credits when you choose to download your generated creatives.
Some of the features include:
Analyze ads from competitors and increase your conversion rates.
Generate as many ads as you need – only pay for what you use.
Identify top performing ads.
This platform offers the best ads that we have seen across all platforms.
Read our AdCreative AI Review or visit AdCreative AI.
Semrush is an entire suite that enables you to perform content marketing campaigns, SEO, social media marketing, analytics, PPC, and much more. Its standout feature is its position tracker, which provides businesses with a way to track how they rank against other sites when it comes to keyword usage. 
The AI marketing tool also offers a Content Marketing Toolkit that enables you to perform topic searches, which provides insight into what is trending. You can then create content marketing plans based on this information. 
Here are some of the top features of Semrush: 
Position tracking that shows you ranking for targeted keywords

On-page SEO

7 tools aimed at competitor analysis

Social media management and content marketing
Create presentations using AI with Plus AI for Google Slides
This tool enables users to create presentations and edit slides using Generative AI in Google Slides.
The AI-powered suggestions are a game-changer. It's like having a personal presentation assistant. The process is extremely simple, start with a prompt to generate a customizable outline, then watch as the AI turns it into slides in just a few minutes.
Once this is complete you have multiple options including rewriting the content to change the tone, or remixing the slide to transform the content into a specific layout.
Best of all, Plus AI will generate an outline, which you can customize before generating the presentation itself. To offer additional flexibility, when generating your slides, you can choose a visual theme. After the slides are generated, you can edit them just like any other presentation in Google Slides, export them for PowerPoint, and continue to edit them with Plus AI.
Top Features of Plus AI
Powered by the latest in Generative AI
Integration between Google Slides and Powerpoint is seamless

It creates a presentation that needs only minor editing when used with detailed prompts

The ability to rewrite content on slides is a game-changer
Use discount code: UNITEAI10 to claim a 10% discount.
Pictory is an AI video generator that enables you to easily create and edit high-quality videos. One of the best aspects of the tool is that you don't need any experience in video editing or design. 
You start by providing a script or article, which will serve as the base for your video content. For example, Pictory can turn your blog post into an engaging video to be used for social media or your website. This is a great feature for personal bloggers and companies looking to increase engagement and quality. Since it is based in the cloud, it works on any computer. 
Pictory also allows you to easily edit videos using text, which is perfect for editing webinars, podcasts, Zoom recordings, and more. It's simple to use and takes just minutes before delivering professional results that help you grow your audience and build your brand. 
Another great feature of Pictory is that you can create shareable video highlight reels, which proves useful for those looking to create trailers or share short clips on social media. Besides these great features, you can also automatically caption your videos and automatically summarize long videos.  This is perfect for marketing.
Here are some of the main features of Pictory: 
Video based on articles or scripts

Edit videos using text

Create shareable video highlight reels

Automatically caption and summarize videos
Read our Pictory Review or visit Pictory.
Unlock Your SEO Potential with Scalenut
Scalenut is essentially an all in one marketing tool and is designed to scale. It enables you to quickly and get the entire keyword plan for your niche and to generate a content management strategy to dominate these terms. The software is divided into 4 sections:
Research – Uncover insights and build a strategy that works by getting all the insights and semantic key terms you need to outpace your competition.
Create – Write SEO content that ranks by using the most advanced versions of NLP and NLU (Natural Language Processing & Natural Language Understanding). It offers real-time optimization based on SERP statistics, and offers content that can deliver.
Optimize – Get real-time feedback on where your content stands with a dynamic SEO score. Improve on the go, no more revisions!
Marketing Copy – Write persuasive copy that brings conversions with 40+ AI copywriting templates. This includes the following:
Product descriptions
Website copy
Copywriting Frameworks
Email Copyrighting
Claim a 20% discount off the monthly subscription fee. Discount Code: FOREVER20 
Read our Scalenut Review or visit Scalenut.
Ad Copy was designed with marketers in mind who are looking at increasing conversion rates for their marketing copy, and in many cases can create ads that convert in less than 60 seconds. The platform enables users to generate countless variations of effective ad copy.
Some of the features include:
An AI modeled for direct response marketing and driving conversions
High speed autofill to generate and paste your copy into your Ads Manager
Step by step prompt builder to create the most accurate output for your campaigns
Tinker with ad creativity, copy structure, tonality and more to craft the perfect ads
One of the most difficult aspects of SEO is knowing in real-time where you currently rank. Searching in Google manually is not time efficient, and it leaves the risk of personalized and localized results giving you a false impression.
This is the best tool on the market to quickly identify your current rankings with its powerful tools.
Rank tracking – Get reliable rank tracking from anywhere with any device.
Rankings Analysis – Online views, data visualizations and charts that enables fast analysis of ranking progress and make informed decisions based on insights.
Reporting – If you want to send your reports to potential investors, clients, or internal team members they offer the ability to automatically generate and send customized, white-label reports.