10 Best AI Audio Enhancers (December 2023)
Audio enhancer software can provide audio-lovers and professionals alike with an optimal sound experience. Utilizing the latest technologies, you can easily remove background noise, add effects of your choosing or use preset options to customize output for different devices like speakers and headphones – all without any changes to existing hardware.
AI audio enhancers have been revolutionizing the audio industry for some time now – and it shows no signs of slowing down. AI-powered audio enhancing technology uses advanced algorithms to improve the sound quality, taking it to new heights beyond what was previously possible.
AI can lower noise levels and refine sounds, creating a crisp, crystal clear listening experience. There are plenty of great AI-powered audio enhancers on the market, each with their own features that you can take advantage of depending on your needs. Whether you're looking for a powerful tool for professional music production or want something easy to use at home, AI audio enhancers are an excellent choice for audiophiles of any kind.
Here is our list of best AI audio enhancers:
Using AI audio enhancer VEED, background interference can be eliminated with a single click of the mouse. The tool eliminates the need to buying sound-blocking microphones and manually editing out noise.
All it takes is a few simple steps – simply upload your video to VEED, then choose the "Clean Audio" option to have AI automatically remove all background noise. Once finished, you'll be ready to go with an MP4 version of your video that can easily be shared on social media platforms.
Some of the top features of VEED include:
Intuitive user interface
Advanced audio features
Simple process
Easily shareable on social media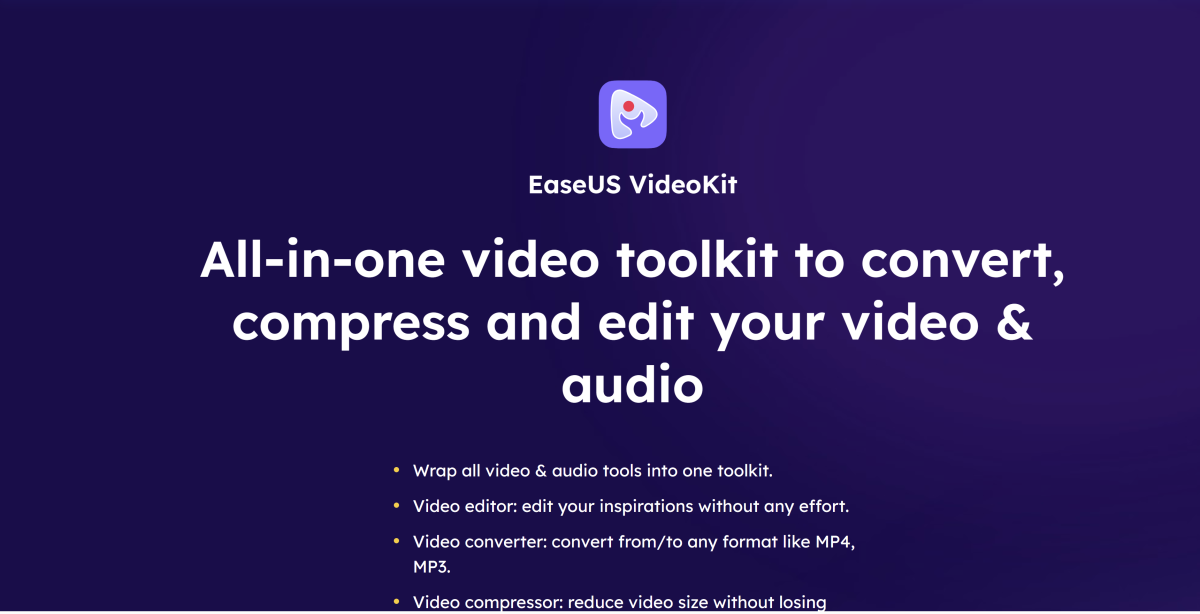 The EaseUS video toolkit was designed to convert, compress and edit your video & audio files. It combines all video editing programs in a one-stop workspace and provides any video creator with a full access to the best video converter, video compressor, video editor, and GIF Maker.
The built-in video converter to mp3 makes things much easier to convert and cut audio files. It supports the most common music and audio formats like MP3, MP4, M4A, M4R, WAV, and WMA. This converter is also a video-to-audio converter that extracts audio from video and then processes or edits the audio files.
The platform also includes an AI text-to-speech generator, and an AI noise reducer.
For maximum efficiency the platform supports batch conversion, you can convert multiple videos and audio in bulk. Just add files, set output format and quality, then wait for the conversions to be done.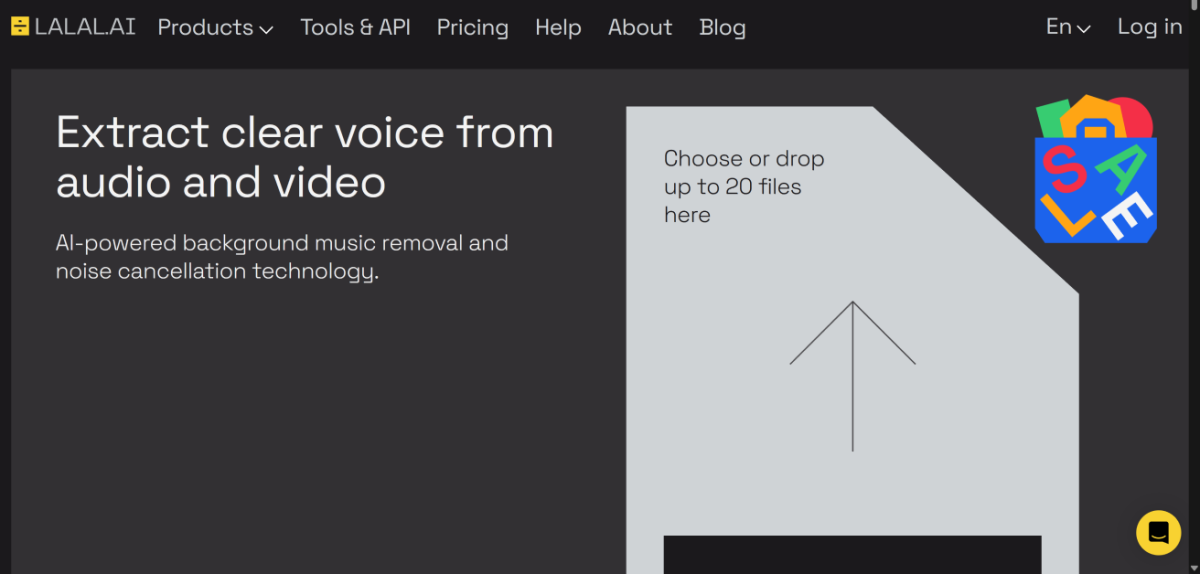 LALAL.AI offers a powerful easy to use AI powered service that can easily remove unwanted background and noise and music.  The unique algorithm cancels out unwanted sounds, producing tracks with crystal clear voice.
The four primary use cases for this are for:
Streamers: Remove background music from your recorded video streams to prevent copyright claims and avoid legal issues.
Journalists: Clean up your interviews and other audio recordings, enhance the voice clarity for fast speech deciphering.
Transcribers: Extract monologues and dialogues from movies, series, shows, and videos for speech-to-text decoding and translation.
Musicians: Reduce background noise and other extra sounds that your microphone picks up during vocal recording.
Audo is the premiere AI audio enhancer for anyone wanting to create professional, high-quality audio projects. Its easy and intuitive user interface allows users to quickly upload and edit sound files, or even record them using the app itself. The AI technology and audio engineering behind the app ensure that it's simple yet effective for all levels of audio editing, from amateur podcasters to experienced sound engineers.
Moreover, its active development team is continuously working on new features and updates; so you can enjoy not only the current tools but also all their upcoming improvements down the line.
Some of the top features of Audo include:
Easy and intuitive interface
Upload and edit sound files
Record directly in the app
Active development team
AI Mastering is an AI audio enhancer tool that focuses on making user experience the utmost priority. To ensure convenience, AI Mastering has created several easy alternatives for signing up an account with them, including using your existing GitHub, Google, or Twitter accounts.
Not only does AI Mastering focus on user convenience but also packs a handy feature with its AI based technology which allows for automatic audio conversions. As AI Mastering continues to offer more features and convenience to its growing audience of users reaching out every month, it is clear this application is quickly becoming a popular tool of choice.
Some of the top features of AI Mastering include:
Alternative sign up options
Automatic audio conversions
Fast growing audience
Easy to use
Krisp is an AI audio enhancer that uses the PC and Mac's open device architecture as an audio input or output to filter out background noises like sirens, barking dogs and other unexpected noises. It greatly enhances speech quality within video call services and does not add any latency to the call.
In addition, for those working in relatively quiet settings, Krisp promises to improve their experience tremendously by helping keep the conversation clear and free of distracting noise. For those wanting to use this AI audio enhancer, they can either sign up on a monthly Personal Pro membership plan or opt into one of their team plans with no time limit on 120 minutes worth of usage.
Some of the top features of Krisp include:
Filters out background noises
Enhances speech quality within video calls
Keeps conversations clear in quiet settings
Multiple plan options
Auphonic is an AI-based audio enhancer that has revolutionized the broadcasting industry. It enables each user to experience professional-level audio quality for various media including radio, broadcast, screencasts and films.
Thanks to its AI-based algorithms, users can now take advantage of a comprehensive range of tools to get the most satisfactory result from their projects. Users no longer need to master the subtleties of compressors or equalize loudness according to the standards such as ATSC A/85, EBU R128 among others.
The software also boasts impressive features such as built-in optimum encoding, chapter markings and metadata programs. Moreover, speech recognition and editing systems are available in more than 80 languages enabling its users to reach wider audiences around the globe.
Some of the top features of Auphonic include:
Profesional-level audio quality
Comprehensive range of tools
Built-in optimum encoding
Speech recognition and editing for 80+ languages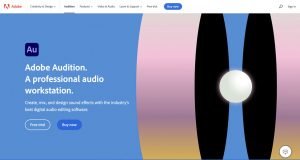 Adobe Audition is a powerful AI audio enhancer that makes achieving the perfect track more accessible than ever before. With detailed editing options and functions for noise cancellation, you can easily give your audio a professional sound by minimizing background noise.
Not only that, it is incredibly quick and intuitive as you can drop any audio file into the software to start editing. As you edit, you can listen to the tracks while they are still in progress – saving time and allowing for an even better processing of the audio itself. Additionally, with Adobe's split platform integration, you can quickly and seamlessly transfer between different Adobe applications with your progress up to this point on the platform retained.
Some of the top features of Adobe Audition include:
Detailed editing options
Noise cancellation
Quick and intuitive
Listen to tracks while editing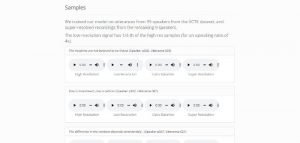 Audio Super Resolution is an innovative application that utilizes AI to intelligently add additional time-domain samples to an audio signal. This AI-driven process, comparable to the picture super-resolution issue where individual audio samples are compared to pixels, uses convolution, dropout, and non-linearity in each block of its algorithm.
Additionally, Audio Super Resolution allows for low-resolution features from the down sampling blocks to be seamlessly reused during up sampling through stacking residual connections. Together, these technologies enable it to create a superior listening experience for its users.
Some of the top features of Audio Super Resolution include:
Advanced AI algorithms
Free to use
Additional time-domain samples to audio signal
AudioDenoise is another great AI audio enhancer. The tool makes it incredibly easy for anyone to quickly and effortlessly enhance an audio file.
All that is needed is to select a file from a cloud storage platform or from your own computer. From there, users have access to a wide range of sound settings and options, including Noise Model Type, the level of noise reduction needed, temporal smoothing, and many more customizations.
Finally, with one click of a button users can start the AI audioenhancing process, with the ultimate result being a drastically improved audio file.
Some of the top features of AudioDenoise include:
Easy to use
Free tool
Wide range of sound settings and options
One click to start process