Artificial Intelligence Is Now Being Used To Detect Cyberbullying in School Children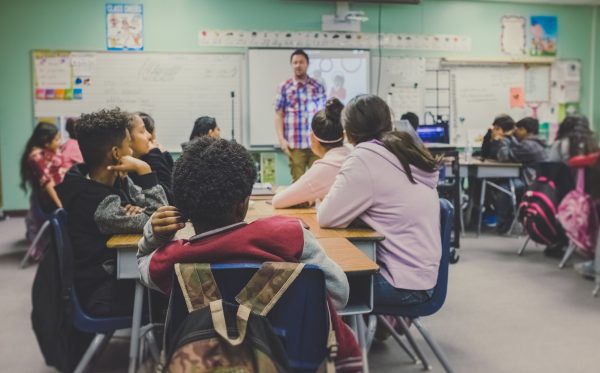 Data about bullying, self-harm and cyberbullying among school children around the world is becoming alarming. As presented by Jun Wu, data from the US shows that in 2017, According to the National Center for Education Statistics and Bureau of Justice, about 20% of students ages 12–18 experienced bullying. According to the Center for Disease Control and Prevention, 19% of students in grades 9–12 report being bullied on school property in the 12 months preceding the survey.
What is becoming even more alarming, spreading beyond the school grounds themselves is the rise of cyberbullying. As Wu points out, "harassment in online forums, by emails, and on social media platforms can often be more damaging to the victim's mental health than in-person bullying. Cyberbullying can often be an escalation from the school bullying. At the same time, bullying can start on social media, then work its way into the classroom."
In Australia, researchers are reporting about the phenomenon named Momo, which involves a situation in which "cyber predators were taking on a persona called Momo and contacting children via social media asking them to hurt themselves, had sent ripples of concern through schools across the country."
Preventing such bullying and possible self-harmed caused by depression has prompted a number of artificial intelligence developers to try to seek solutions to this widespread problem.
As SkyNews reports, some British schools have started using an AI tool called AS Tracking, developed by a company called STEER, which came into use at 150 schools in Britain. The tool involves students taking an online psychological test, and in September 2019 the test will be taken by 50,000 schoolchildren.
As is explained, the test, asks students to imagine a space they feel comfortable in, then poses a series of abstract questions, such as "how easy is it for somebody to come into your space?" The child can then respond by clicking a button on a scale that runs from "very easy" to "very difficult". The results are sent to STEER, "which compares the data with its psychological model, then flags students who need attention in its teacher dashboard."
According to Dr. Jo Walker, co-founder of STEER, "our tool highlights those particular children who are struggling at this particular phase of their development and it points the teachers to how that child is thinking." He adds that "since introducing it the college has seen a 20% decrease in self-harm."
In her analysis, Wu mentions a number of AI developers in the US that are helping with the problem. Securly uses AI to create "web filtering, cyberbullying monitoring, and self-harm alerts for schools. Schools can issue Apple devices and Chromebooks to students while monitoring the student's cyber activities. Parents can also use the apps on their home devices to monitor their children's online activities." Bark uses AI to monitor text messages, YouTube, emails, and 24 different social networks to alert parents of potential safety concerns. SN Technologies Corp goes a step further, as its AI solutions use facial recognition to track 'blacklisted' students in schools from videos of surveillance cameras in schools themselves.
In Australia, cybersecurity startup Saasyan Assure developed an AI method that could help teachers track students when they were watching "Momo Challenge" videos. Greg Margossian, head of Saasyan Assure said that his company "just made sure to ensure that the 'Momo' keyword was in all the client's databases, without them even thinking about it." It is added that the company "offers a subscription software that can be added to all devices at school to create a historical footprint of each student's computer use and ping teachers if any risks, from bullying to possible self-harm or violence, emerge."
London-Based Startup LabGenius Raises $10M
The London-based startup LabGenius announced that they raised over $10 million in Series A Funding. They are a drug discovery company that utilizes artificial intelligence (AI), robotic automation, and synthetic biology. Their main focus is to find novel protein therapeutics. 
According to Dr James Field, CEO and Founder of LabGenius, "Protein therapeutics have an unparalleled potential to both treat disease and alleviate human suffering. By transforming how these drugs are discovered, we have a shot at improving the lives of countless people. Being able to robustly engineer novel therapeutic proteins has immense commercial and societal value. The discovery of protein therapeutics has historically been highly artisanal, relying heavily on humans for both experimental design and execution. This dependence has proved limiting because, as a species, we're cognitively incapable of fully grasping the complexity of biological systems."
The Series A investment round is led by Lux Capital and Obvious Ventures. Other participants included Felicis Ventures, Inovia Capital, Air Street Capital, and other existing investors. CEO and founder of Recursion Pharmaceuticals, Chris Gibson, along with Inovia Capital General Partner Patrick Pichette, are also investing. Pichette is the former CFO of Google. 
According to the company, they will use the capital to "scale their team, expand the scope of its discovery platform, and initiate an internal asset development program." One of their main goals is to evolve novel antibody fragments. These could be used to treat certain conditions that can't rely on conventional antibody formats. 
Lux Capital and Obvious Ventures
Zavain Dar, Partner at Lux Capital, along with Nan Li, Managing Director at Obvious Ventures, have been involved in the life science startup environment for some time. Their investment strategy dates back nine years, including a 2013 investment into Zymergen, a molecule discovery and manufacture company based out of California. In 2016, they were involved in Recursion Pharmaceuticals, who went on to a series C raise of $156 million in July. 
Their strategy follows a path, starting at industrial biotech technology with Zymergen and followed by root-cause biology discovery with Recursion Pharmaceuticals. It is closed out by creating composition of matter and IP with LabGenius.  
Dar explained his reasoning behind choosing LabGenius over other startups. 
"We scoured the globe, and didn't want to be constrained by what happened to be in our backyard," he says. "They are leading the pack…and now with backing and pharma partnerships, should be in a good position."
Humans No Longer Sole Agents of Innovation
When speaking to TechCrunch, Dr James Field said, "My central thesis, the thing that's really the driving force behind the company, is the conviction that we're entering an age in which humans will no longer be the sole agents of innovation. Instead, new knowledge, technologies and sophisticated real-world products will be invented by smart robotic platforms called empirical computation engines. An empirical computation engine is an artificial system capable of recursively and intelligently searching a solution space."
The company has created a discovery platform called EVA, and it integrates multiple new technologies coming from different fields including artificial intelligence. After discovery and characterisation, LabGenius then sends their proprietary molecules to clinics. 
Field explains the company's EVA technology as a "machine learning-driven, robotic platform"," that is capable of "designing, conducting and critically learning from its own experiments." 
"For decades, scientists, engineers and technologists have dreamt of building 'robot scientists' capable of autonomously discovering new knowledge, technologies and sophisticated real-world products," says Field.
"For protein engineers, that dream has now entered the realm of possibility. The rapid pace of technological development across the fields of synthetic biology, robotic automation and ML has given us access to all the essential ingredients required to create a smart robotic platform capable of intelligently discovering novel therapeutic proteins."
Brain Cancer Detected By AI Analyzing Blood Test Results
Recently, researchers associated with the University of Strathclyde, Glasgow patented a method of analyzing blood samples to detect brain cancer. The researchers at ClinSpec Diagnostics Limited combined spectroscopy and AI algorithms to detect brain cancer based on blood biopsies. As reported by Psychology Today, The research was recently published in the journal Nature Communications, and according to the research team, the work represents a significant development in the utilization of clinical spectroscopy and AI.
The research presented in the study could make catching brain cancer much easier and simpler. Frequently occurring headaches may be a symptom of brain cancer, but even though headaches are very common, brain cancer is not. Clinicians need a better method of discerning which headaches are causes for concern and which are more benign. Doctors must be able to carry out some form of triage and reduce the amount of time and resources invested in diagnosing brain cancer with costly brain imaging scans. If a simple blood test could give clinicians reliable information that could help them diagnose cases of brain cancer, lives could be saved.
It was for this reason that the ClinSpec researchers aimed to develop an algorithm that would help doctors sort through the cases of possible brain cancer patients, distinguishing them from other causes of headaches.
One of the common methods of detecting diseases like cancer is liquid biopsy, doing biopsy on fluids of the body instead of tissue samples. The liquid biopsy market is swiftly growing, hitting an estimated $2.4 billion dollars in size according to market research from BC Research LLC. Liquid biopsy proves effective at detecting signs of cancer, as it is able to detect cell-free circulating tumor DNA, or ctDNA, and circulating tumor cells, or CRCs. However, the researchers from ClinSpec utilized a different method of analysis, doing spectroscopy on blood samples to find biochemical markers indicative of cancer.
Spectroscopy is the process of using electromagnetic radiation to find certain targeted chemical components. Light is split up into component electromagnetic frequencies, and these frequencies will react differently with different chemicals. The ClinSpec research team used infrared light to create representations of blood samples, a technique dubbed attenuated total reflection (ATR)-Fourier transform infrared (FTIR) spectroscopy. The research team stated that the technique is a non-destructive, non-invasive technique that reliably creates a biochemical profile of a sample without the need to prepare the sample extensively. The representations of the blood samples could then be analyzed for aberrations, checked for possible signs of cancer.
In order to analyze the data, a support vector machine was used to create a classification model. Support vector machines are used for classification and regression analysis, and they operate by drawing decision boundaries, or lines that separate a dataset into multiple classes. The algorithm tries to maximize the distance between the dividing line and the data points on either side of the line, and the greater the distance the more confident the classifier is.
The research team stated that their method of analysis for the blood samples was able to effectively distinguish cancer samples from non-cancer samples. There was a sensitivity rate of 93.2% and a specificity rate of 92.8%. According to MDDI Online, The researchers report that when analyzing samples from a group of 104 different patients, their AI-assisted method was able to distinguish healthy patients from cancer around 86% of the time.
The researchers explained in the study:
"This work presents a step in the translation of ATR-FTIR spectroscopy into the clinic. This step towards high-throughput analysis has implications in the field of IR spectroscopy as well as the clinical environment. Analysis of blood serum using this technique would fit ideally in the clinical pathway as a triage tool for brain cancer."
Foodvisor App Uses Deep Learning to Monitor & Maintain Your Diet
Foodvisor, a startup that launched its new AI-based app in France in 2018 is about to change the manner in which you track and keep your diet plans. As TechCrunch explains, the Foodvisor app "helps you log everything you eat in order to lose weight, follow a diet or get healthier." The users are also given the ability to input additional data by capturing a photo of the food you are about to eat.
The app works by using deep learning "to enable image recognition to detect what you're about to eat. In addition to identifying the type of food, the app tries to estimate the weight of each item." Using autofocus data, it also makes an evaluation of the distance between the plate of food and the phone it is on.
Foodvisor also allows its users to manually correct any data before the meal is logged in. For many people tracking their diet nutrition trackers turn out to be too demanding, and the idea behind Foodvisor is to make "the data entry process as seamless as possible."
Finally, it produces a list of nutrition facts about what has just been consumed –  calories, proteins, carbs, fats, fibers, and other essential information. The users can then set their own goals, log their nutritional activities and monitor their progress.
The app itself is free to use, but it also offers a premium subscription that varies between $5 and $10. These subscriptions offer more analysis and diet plans, but the main feature  of these plans being "that you can chat with a registered dietitian/nutritionist directly in the app."
So far, Foodvisor was able to gather 1.8 million downloads and is available on IOS and Android systems in French, English, German and Spanish, and has raised $1.5 million so far (€1.4 million). Co-founder and CMO Aurore Tran says the company has "enriched [its] database to better target the American market."
The trend of using AI systems in food apps was started back in 2015 when Google started developing its Im2Calories,  a system that counted calories based on Instagram photos. It was followed, as The Daily Meal reported, "researchers from MIT's Computer Science and Artificial Intelligence Laboratory and the Qatar Computing Research Institute created Pic2Recipe, an app that uses artificial intelligence to predict ingredients and suggests similar recipes based on looking at a picture of food."
The same team is still trying to "improve the system to understand images of food in more detail, including identifying cooking and preparation methods. They are also interested in recommending recipes based on dietary preferences and available ingredients."
But as Ai capabilities develop, it seems that Foodvisor took the idea one step further.