10 Best AI Random Face Generators (September 2023)
Random face generators offer a range of versatile and creative applications. Not only do they help to shield users' identities through detailed images, but also provide visually inspiring characters to people who are looking for design ideas or just some fun.
Thanks to their unique output, random face generator apps make it possible for anyone with access to Photoshop (or other editing platforms) the ability to take their creations even further.
In this list, we will detail some of the best AI random face generators on the market.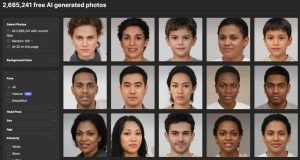 Generated Photos is the frontrunner among AI-based face generation applications. With its seamless quality and stunning editing capabilities, it has become a popular choice for noteworthy platforms like BBC, Forbes, and Daily Mail.
This top-of-the-line program is worth the cost due to its wide selection of faces that look truly realistic. While many programs can quickly generate faces, Generated Photos takes things one step further with their array of powerful tools that make it easy to customize your work exactly how you want it.
Some of the pros of Generated Photos include:
Comprehensive random face generator
Easy-to-use and automatic
Highly realistic faces
Used by top names like BBC and Forbes
The BoredHumans Generator is renowned for its powerful algorithms and machine learning capabilities, enabling users to generate realistic-looking faces with ease. It draws from an expansive database of over 70,000 real human images, ensuring that each outputted face looks as realistic as possible.
Additionally, the platform also includes a previous existing version with animated images which, though not entirely lifelike, can be quite intriguing. And that's in addition to all the other artificial intelligence-based tools available on this online platform.
Some of the pros of BoredHumans include:
Powerful algorithms
Easily generate realistic-looking faces
Database of 70,000+ real human images
Previous existing version feature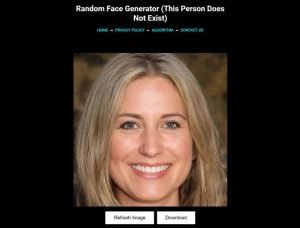 This Person Does Not Exist is an innovative tool that has revolutionized the concept of generating random faces. Its signature feature is the ability to provide realistic-looking faces in a matter of seconds with just a single click.
The technology makes use of various elements and facial features, such as teeth, hair color, background, and accessories, to make the generated faces appear more authentic. Such sophisticated capabilities make this tool truly remarkable, providing users with customized digital identities for their intended purpose in no time at all.
Some of the pros of This Person Does Not Exist include:
GAN technology with two neural networks
Generated faces are less than 90% recognizable by ordinary people
NVIDIA "StyleGAN algorithm"
Refresh option to change the generated face
4. Fake Face Generator
With Fake Face Generator, anyone can produce realistically generated faces on the go. This app uses AI-based technology for superior results and is capable of making a plethora of distinct images in quick time. Generated faces come from all age groups, genders and styles – from kids to adults and scruffy to blond hair.
With previous versions already released and more updates coming soon, this useful mobile tool provides plenty of opportunities for customizing profile pictures, creating artistic works, and much more.
Some of the pros of Fake Face Generator include:
Helps generate many images in quick amount of time
Array of characteristics for generated faces
Constantly updated with new versions
Useful for profile pictures, artistic works, and more
Powered by GitHub, Random Face Generator features an intuitive and efficient interface. With this generator you have the capability to control more than just gender – you can also choose to adjust the age of generated faces, ranging between zero and 100 years.
After processing, it makes downloading your AI-generated face an easy task. These images are highly versatile, so they can be applied in many ways. The generator is the perfect tool for anyone looking for ultra-customized random faces.
Some of the pros of GitHub Random Face Generator include:
Intuitive and efficient interface
Control various features
Age between 0-100 years
Download AI-generated face easily and quickly
Prototypr simplifies the process of creating digital portraits and avatars. Its professionally designed interface offers a range of versatile customization options, enabling users to create custom images quickly and easily with just a few taps of their fingertips.
With advanced elements like auto-smoothing and real-time photo enhancement tools, you can bring your photos to life with highly realistic results. Prototypr also allows for personalized adjustments like color shifts or warping, giving you full control over the final product.
It's a perfect tool for graphic designers as well as everyday people who want to add a personal touch to their images without the hassle of dealing with complex editing programs.
Some of the pros of Protypr include:
Professionally designed interface
Versatile customization options
Advanced elements like auto-smoothing
Personalized adjustments
Datagen is a powerful and precise tool for any user looking to create realistic faces from mere images. It offers innovative features such as full control over intrinsic and extrinsic camera parameters and a vast array of structural combinations when it comes to hair, skin, age, and other elements.
Additionally, you also have access to different lighting adjustments and a selection of facial dimensions that can be finely tuned according to your needs. This incredible tool can generate up to 100,000 faces with detailed high-resolution scans, plus much more than 5,000 options of hair styles and facial hair variations.
Some of the pros of Datagen include:
Realistic faces from images
Innovative features
Different lighting adjustments
Generates up to 100,000 faces
SnapCraft is a reliable random face generator that can be easily customized to meet individual needs. The user interface is straight-forward and intuitive, so no prior experience is necessary to craft the desired creation.
What's more, SnapCraft employs AI algorithms such as pypy-agender to accurately identify age and gender from each image. They keep up with the latest developments in AI technology so users can rest assured that their images are analyzed by a trusted algorithm every time.
Some of the pros of SnapCraft include:
Easily customizable
Straight-forward and intuitive
AI algorithms like pypy-agender
Identify age and gender from each image
Marketing Tool's random face generator offers an easy way to give a realistic appeal to any fake image. This cutting-edge technology utilizes facial impressions and features of real photos, creating natural-looking faces with no artificial elements.
The tool takes advantage of the strongest Generative Adversarial Network (GAN) offered by Nvidia to ensure real vibrancy and emotion in each face that is generated. Furthermore, you are able to access over one million auto-generated fake faces through this tool, making it one of the fastest and most comprehensive processes available on the market today.
Some of the pros of Marketing Tool include:
Facial expressions and features of real photos
Natural-looking faces
GAN by Nvidia
More than one million auto-generated faces
If you are looking for an AI face generator from a photo, Toongineer Cartoonizer by Vance AI can be ideal for you. This tool uses its latest neural network technology to turn photos into cartoons with high quality.
It helps you choose either cartoon or sketch style to customize your images according to your needs. It also assists you in quickly uploading multiple images and batch processing them to save time and effort. To ensure data privacy of the user, the platform has been designed in such a way that all the user data will remain completely confidential.
Some of the pros of Vance AI Toongineer Cartoonizer include:
Neural network technology
Cartoon or sketch style
Quickly upload multiple images for batch processing
Ensures data privacy